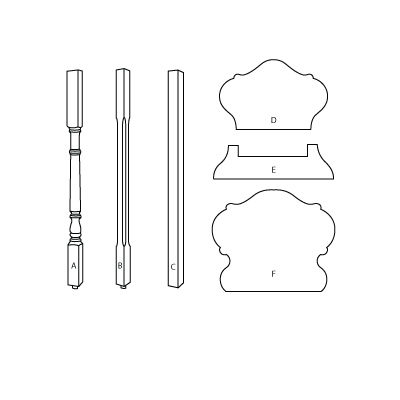 Product Details
Handrails are important components of staircase since they offer stability and protection to the person who is climbing up the stairs.  Adding wooden handrails to the stairs can add sophistication and a touch of class to the home. Wood is one such material, which is never goes out of fashion. 
We offer two styles of hand rails; Colonial or Mushroom. If you need to make any turns in your handrail check out our hand rail accessories.  Our handrails are provided with the groove or no groove option. If you are going with our wooden spindles you will need to mention well ordering that you will need the grooved handrail. We do have other limited edition handrail styles in stock that can be viewed at the showroom.
Also seen on this page is our shoe rail (E). Shoe rail is used to hold the bottom of the spindles in place. Another product you will need to complete your shoe rail look is filler; which is the small wood piece that goes between each spindle on the top and bottom rail.
Product is unfinished.
Would you like to learn more?
Get in touch with us today for more product details and purchasing.